Did you see the dreaded Double NAT detected an error on the Xbox One, wondering what went wrong or how to fix Double NAT detected Xbox One error?
Then in this article, I am going to help you out. Well, this is not a very stubborn error as luckily there are fixes that are easy to apply and work for you to solve Xbox One Double NAT Detected error.
So without wasting time let's find out what is Double Nat error? Why it occurs and how to fix it?
What is Double NAT?
The Double NAT appears when there is more than one router on the networks. Commonly when you find yourself behind two private networks and if the ISP claims on using the proprietary router devices then in this case you add the second router. And this is what causes the Double NAT.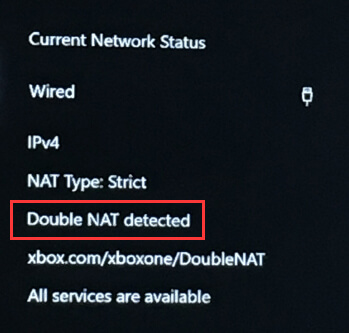 In simple words, every router creates its own private network, and possibly the Xbox one is connected to the second router.
But the second router is on the network of the first router, and this is what having different rules. And in this situation, the Xbox One has to pass two firewalls for accessing certain services.
Well the double NAT is a type of security for your setup this is a problem to think about much. Below have a look at the possible reason why it occurs.
What Causes Double NAT Xbox Error Occurs
NAT (Network Address Translation) allows numerous devices to share one public IP address while connecting to the internet. And this plays a very important role in building the connectivity for multiplayer games like Overwatch, Call of Duty, and others.
But in many cases, this causes issues for the gamers. And the Xbox double NAT error occurs due to numerous routers of gateways which creates the connection between the Xbox and the internet. And the error stops the device from building a stable connection for gaming
Now follow the solutions given one by one to fix Double NAT detected error on Xbox One with ease.
How to Fix Double NAT Detected Error on Xbox One?
Solution 1 – Preliminary Steps
Well, to solve the Xbox One Double NAT error, you require removing one NAT device from your network. As the Xbox One is connected to another router or gateway, so follow the solutions given carefully.
But, if you are not sure your device network is a gateway or a modem then follow the below-given tricks:
Verify the manufacturer information or the model number on the device back.
If on the device there are multiple ports, it signifies you are having a gateway.
And if there is a wireless signal from the devices for accessing the internet, then there is a possibility you have a gateway.
So, in this way, it is clear your device network is a gateway or a modem. Now follow the solutions given one by one.
Solution 2 – Set Gateway to Bridge Mode
Here it is suggested to access the router that is close to the internet and enabling the bridge mode on the router you have connected to your Xbox One works for you to fix Double NAT detected an error on Xbox One.
But many ISP-assigned routers require this Bridge Mode feature. If this is the situation you might need to ask your ISP and tell them if they are able to do this for you.
Well, they may be able to help you out. Now follow the steps given one by one:
In your browser >type the default gateway address
Now log into the router or modem.
Then in the router's configuration menu > look a Bridge Mode option
Next, enable Bridge Mode
And restart your gateway and Xbox One
Check if this works for you to fix Xbox double NAT error, but if not then follow the next solution.
Solution 3 – Remove One NAT device
If the Bridge Mode is not supported by your Gateway, then you can arrange the router as an access point (AP) mode and after that remove one NAT device.
Follow the steps to do so:
Open the Router login page> then log in to your router.
Next at the left side go to the Wireless options tab > and allow the Access Point Mode.
And save the changes and exit.
Next, restart your Xbox One and check if the Xbox One double NAT detected error is fixed or not or follow the next solution.
Solution 4 – Remove ISP Router
Here from the network try removing your router's ISP from the network or anyone that has the weak performance. First, unplug the cable from your router's WAN port and plug it into your own router.
Next, to the newly Internet-enabled router connect your Xbox One and hopefully, the Double Nat error is resolved now.
Please Note – Some ISP providers are quite persistent with their routers or modem, so you may not just pull it out and everything starts working fine. So, in this case, follow step 1.
Additionally, if you are having fiber optics Internet, then your personal router might not have an inbuilt converter. This also means that you may not remove the ISP router from the picture.
Solution 5 – Set your Router to AP mode
Well, the Access Point (AP) basically utilized for extending the wireless range of the network. Depending on the model of the router, set it to AP mode as this also allows you to connect through the Ethernet cable.
Well, doing this might disable certain features on the router. For example – NAT, QoS, and Parental Controls might not be available, so you need to live with it.
Follow the steps to do so:
In a browser open your router's (not gateway) address
Next log into your router's management page
Then find something similar to your router's operation mode
And change it from Router to AP (Access Point)
Lastly, restart your router and Xbox One
Hope this works for you to fix Xbox One double NAT detected an error.
Recommended Solution – Fix Windows Error and Boost PC Performance
If you are looking for a one-stop solution to fix Windows errors and performance issues, then you must give a try to the PC Repair Tool.
This is an advanced repair tool developed by professionals in order to deal with various Windows PC errors and issues. Here are some of the issues that you can easily fix with the help of this tool – game error, registry error, BSOD error, application error, DLL error.
Along with these, it can also repair the damaged Windows system files, keeps the system secure from viruses/malware, and boosts the PC performance by resolving the performance-related issues.
Conclusion
Double Nat error is related to the network and is a bit irritating as due to this you are unable to use the Xbox One.
So, here in this article, I tried my best to list down the complete fixes to solve the Xbox One Double NAT detected an error.
Hopefully, the above-discussed solutions did work for you and now you are able to use your Xbox One. So, if you have found the methods helpful, then share this article with the users experiencing the same error.
Apart from the listed solutions, if you know other methods for resolving the mentioned issue, then you can share them with us on Facebook or Twitter.
Good Luck!!!
Hardeep has always been a Windows lover ever since she got her hands on her first Windows XP PC. She has always been enthusiastic about technological stuff, especially Artificial Intelligence (AI) computing. Before joining PC Error Fix, she worked as a freelancer and worked on numerous technical projects.