Many Windows users reported they are while running the MSINFO32 tool they see the error message "Can't collect information. Cannot access the Windows Instrumentation Software.  Windows management files may be missing or moved." and were unable to access the system information. 
Well, the error is caused due to variety of issues, including system security settings, local policies, and more. Luckily there are fixes that help you to troubleshoot the issue.
In this article, you will get step-by-step instructions to fix the error and access the system information easily.
To repair corrupted Windows system files, we recommend Advanced System Repair:
This software is your one stop solution to fix Windows errors, protect you from malware, clean junks and optimize your PC for maximum performance in 3 easy steps:
Download Advanaced System Repair rated Excellent on Trustpilot.
Click Install & Scan Now to install & scan issues causing the PC problems.
Next, click on Click Here to Fix All Issues Now to fix, clean, protect and optimize your PC effectively.
What is MSinfo32.exe?
MSinfo32.exe is a system information utility that provides detailed information about your computer's hardware, software, and system settings.
It is used to diagnose system problems or optimize system performance as well as troubleshoot system issues or generate reports.
Why is MSinfo32 Not Working on Windows?
If the Windows Management Instrumentation (WMI) service is not running, MSinfo32 will not be able to display system information.
MSinfo32 is a tool that is only compatible with Windows 7, 8.1, and 10. If you are using an older version of Windows, MSinfo32 will not work.
Sometimes some Windows update files can conflict with the MSinfo32 app, and this can prevent it from working properly.
Outdated drivers can also cause problems with the MSinfo32 app.
Corrupt system files can also prevent the MSinfo32 app from working properly.
How to Fix Can't Collect System Information Windows 10?
Solution 1: Restart Your Computer
Restarting the PC reset any temporary settings or corrupted files that may be conflicting with the MSINFO32 application and preventing it from running. Additionally, restarting the PC can help to refresh any drivers or software that may be causing the issue.
Firstly, close the MSinfo32 app and all of its background processes on your PC.
Click on the Windows + D keys to navigate to Desktop. Now, click on the Alt +F4 keys and select Restart Finally, click on OK.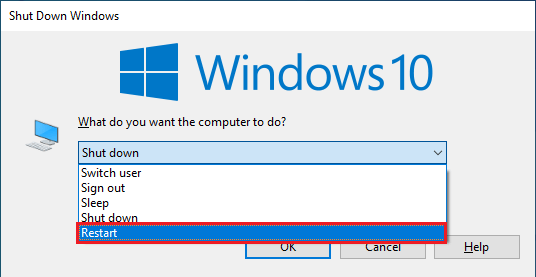 Solution 2: Reset Windows Management Instrumentation Service
Resetting the Windows Management Instrumentation service is responsible for providing information and notification services to system components and applications. If this service is corrupted or not working properly, it can cause the unable to access msinfo32, an error message "can't collect information". Resetting the service will help to restore it to its default settings, which should resolve the problem.
Press the Windows key and type cmd in the start search.
Now, click on Command Prompt from the search list and select the Run as Administrator option.
In the command prompt window, type the below-given command and hit Enter after each

net stop  winmgmt
winmgmt /resetrepository
net start   winmgmt

Close the Command Prompt window and check if the msinfo32 issue is resolved.
Solution 3: Register the WMI Components
Registering the WMI components will provide system information and allows users to manage devices, applications, and other system components. If WMI is not properly registered or configured, it can cause problems with accessing system information and managing devices.
Click on the Start key and type cmd in the start search.
Then, select the Command Prompt option from the search list and right-click on it then choose the Run as Administrator
Type the following commands in the command prompt and hit Enter after each command.
cd /d %windir%\system32\wbem 

for %i in (*.dll) do regsvr32 -s %i 

for %i in (*.exe) do %i /regserver
The WMI components will be re-registered now. Close the command prompt and check if EXE gives the same error.
Solution 4: Check for Windows Update
Updating Windows can help to ensure that all of the necessary components of MSINFO32 are up to date, which can help to prevent the issue from occurring in the first place. Additionally, it can help to ensure that any underlying issues with the operating system are addressed, preventing the issue from occurring.
Follow these steps to update your PC.
Go to the Start menu, and type Windows Settings.
Now, click on Open.
Then, click on the Update & Security option.
Next, click on the Check for Updates option.
In the upcoming window, select the Install now button to download and install the new updates. When your Windows operating system is updated already, you will get a You're up to date
Once your PC updates the latest patches, allow it to reboot completely and check if the error is resolved now.
Solution 5: Restore Missing System Files with SFC/DISM Command
The System File Checker (SFC) utility and the Deployment Image Servicing and Management (DISM) utility are two different inbuilt utilities used to restore missing system files. They scan the system files and replace any that are found to be corrupted or missing. This can help to restore the functionality of the MSINFO32 application and resolve the problem.
Press the Windows key and type cmd in it.
Then, click on the Run as administrator option to launch the command prompt window with admin rights.
Next, type the following command in the new line and press the Enter key on the keyboard.
sfc /scannow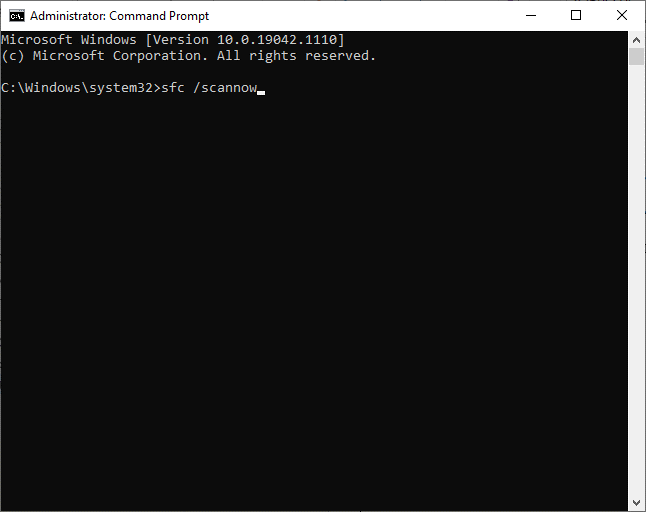 Check if you receive the Verification 100 % completed message and if you see this, check if the issues with msinfo32.exe is resolved now.
Still, if you receive this error, restart the PC, open the command prompt as an admin again,type and run the following commands.
dism.exe /Online /cleanup-image /scanhealth

dism.exe /Online /cleanup-image /startcomponentcleanup

dism.exe /Online /cleanup-image /restorehealth
Wait until the commands are executed, and repeat the SFC scan to ensure you do not face the problem again.
Solution 6: Disable your Security Software Temporarily
Disabling security software such as an anti-virus or firewall program can help to fix unable to access MSINFO32 problem. Disabling these programs can allow the tool to run properly and provide the necessary system information. Follow these steps to disable your firewall protection suite on your PC.
In the Search, box type Control Panel and open it.
And click on System and Security.
Then, click on Windows Defender Firewall.
Click on Turn Windows Defender Firewall on or off as shown.
Click the boxes Turn off Windows Defender Firewall (not recommended) options under all menus.
Likewise, disable the third-party antivirus suite on your by following these steps: Open the Settings or Options menu of your antivirus program and look for a setting that says something like Enable/Disable Protection or Turn On/Off Protection. Disable the protection by confirming with the prompt.
Solution 7: Perform a System Restore
Performing a system restore will restore the system to a previous point in time before the error occurred. It will essentially undo any changes that were made to the system that may have caused the msinfo32.exe does not work issue.
Note: Always boot your computer to safe mode before you start to perform a system restore process. It is necessary because it ensures that the computer's operating system and its components are loaded and functioning properly. As you did earlier, go to the command prompt window with admin rights.
Next, type the following command and press the Enter
rstrui.exe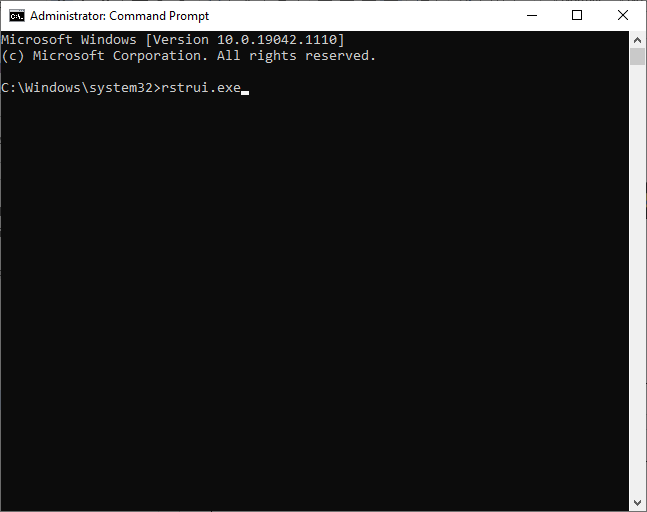 Click on the Next button in the System Restore window to proceed on.
Finally, you can select any of the listed restore points and then, click on the Finish
Once you have restored your system to the previous state, your issue with MSinfo32 must be fixed now.
Make Your Windows PC/Laptop Error-Free
If after following the above-given fixes your system starts running slow, crashing, or freezing then it is suggested to scan your system with the PC Repair Tool.
This is an advanced repair utility that fixes various computer problems like stubborn Windows errors, protects you from virus/malware, and DLL error, repair corrupt registry entries, and many other errors and issues in the Windows system.
This not only fixes errors but also optimizes Windows PC performance.
Conclusion
Unable to access msinfo32, an error message "can't collect information" is not a difficult problem to fix. With the right knowledge and a few simple steps, you can run the MSINFO32 tool and troubleshoot the error.
Follow the step-by-step instructions and solve the error Can't collect information.  Cannot access the windows instrumentation software. Windows management files may be missing or moved easily.
Hope our article works for you to solve the error and access system information.
If you are having any comments, suggestions, or queries regarding the one then feel free to share with us on our Facebook Page. Also, don't forget to follow us on our social media handles to get more interesting guides and helpful tips to keep your computer safe from errors and issues.
Good Luck..!
Hardeep has always been a Windows lover ever since she got her hands on her first Windows XP PC. She has always been enthusiastic about technological stuff, especially Artificial Intelligence (AI) computing. Before joining PC Error Fix, she worked as a freelancer and worked on numerous technical projects.