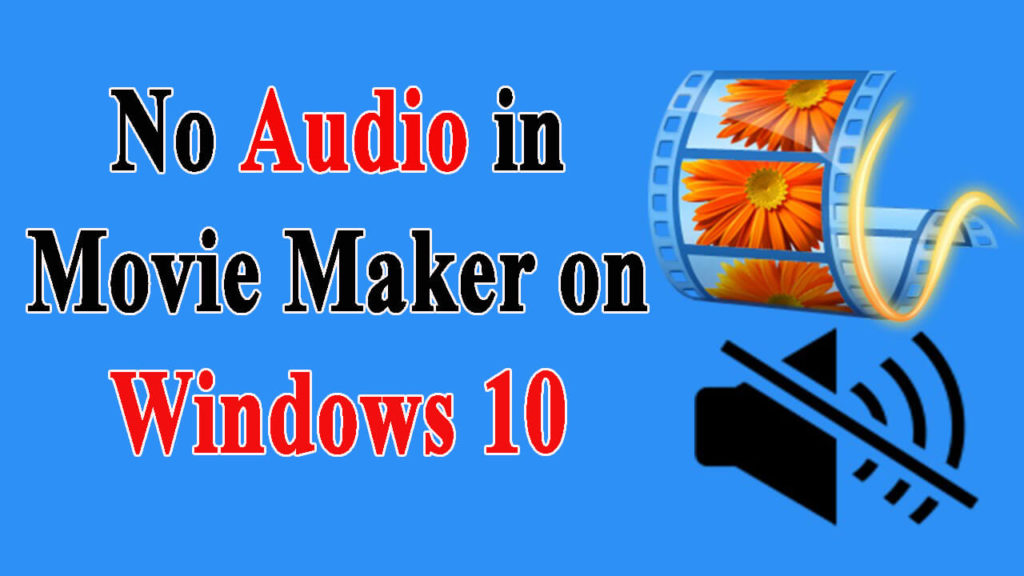 In Windows 10 there are lots of features added in Movie Maker, this is one of the simplest tools that allows a user to create, edit videos without the need of any professional skill.
But sometimes, users reported that they can't hear audio from Movie Maker project. This is a very wired issue, but don't worry because fortunately, some solutions are available to fix this problem.
This issue generally appears when a user attaches an audio file in their Movie Maker project and play it then the video plays but without music. This issue is very common on windows 10.
Is Your PC Running Slow & Needs Optimization?
Don't Miss The BEST TOOL To FIX PC Errors & Issues
It is one of the irritating issues, especially for those users that are using Movie Maker on regular basis.
If you are suffering from such situation then you might want to have a closer look at below given solutions.
Methods to fix the Problem with Audio in Movie Maker on Windows 10
Method 1 – Try to Reboot the Windows Audio Service
Step 1: Go to the search box and type services, select Services from the list of results.
Step 2: In the Services window find Windows Audio from the list of services.
Step 3: After finding Windows Audio Right-click on the service and select Stop from the menu.
Step 4: After it, right click on the same service again and select Start from the menu.
It is hoped that sound must be now working in Movie Maker.
You can do the same thing in a different way, apply the below-given steps:
Step 1: Open Task Manager by pressing Ctrl + Shift + Esc on your keyboard.
Step 2: Navigate to the Services tab.
Step 3: Find AudioSrv (Windows Audio), and right-click on it.
Step 4: Select restart from the list, this service will take 10 seconds to restart.
Although both the given tricks are very effective, but you will have to execute these steps every time when you run a Movie Maker project or reboot your computer/laptop.
Method 2 – Turn off DTS Sound
Step 1: Go to the Search bar and type DTS sound, select DTS Sound from list of results.
Step 2: At the DTS Sound window click on the power button icon present at the left. After it the DTS Sound window turn into gray, it means that it has been turned off.
Step 3: After it, run Movie Maker and check if the audio works.
If you want to use DTS sound then just set it to internal from the main screen as an alternative of turning it off fully.
Also Read: 19 Commonly Reported Windows System Problems & Fixes
Method 3 – Fix Windows Live Essentials
As we know that the Movie Maker is linked with the Windows Live Essentials, and so that audio problems appears on Movie Maker when your installation gets corrupted.
In order to overcome from this issue, follow the below-given steps:
Step 1: Go to the search option of your computer and search for the control panel. Then choose Control Panel from the list of search results.
Step 2: After opening the Control Panel, go to the Programs and Features section.

Step 3: Then choose Windows Live Essentials from the list and click on the Repair.
Step 4: Simply, follow the on screen instructions to accomplish the repair process.
After fixing the Windows Live Essentials installation, now you have to verify that the problem is still there or not.
In case, the issue is still not fixed then you should try to reinstall the Windows Live Essentials.
Method 4 – Modify the Sound Settings
If you don't have audio in Movie Maker, the problem might be your sound settings. According to users, sometimes you need to have Exclusive Mode disabled in order to get sound in Movie Maker. To change your sound settings, just do the following:
Step 1: Right-click on the Sound icon present in the Taskbar and then select Sounds from the menu.
Step 2: Navigate to the Playback tab and double-click on your current audio device.
Step 3: After it, go to the Advanced tab and turn off all option in Exclusive Mode section.
At last, click on the Apply and OK to save all the modifications done by you.
After applying these changes, it is hoped that the audio issue in Movie Maker should be resolved permanently.
Method 5 – Try to Run the Movie Maker in the Compatibility Mode
Windows 10 users are suffering from the no audio issue in Movie Maker because of the compatibility issues.
So, in order to fix this issue, we will try to run the Movie Maker in the compatibility mode.
Follow the given steps to run Movie Maker in Compatibility Mode:
Step 1: First, you have to find out the Movie Maker shortcut and then right-click on it and go to the Properties from the cascading menu.
Step 2: Go to the Compatibility tab and mark the Run this program in compatibility mode for. Here you have to select any previous version of Windows OS and click on the Apply and OK to save changes.
Now, try to run the movie maker and you will see that the audio issue is gone.
Method 6 – Use WMV format instead
According to report, WMV video files work without any issues in Movie Maker, so if you are unable to solve the issue after applying above given tricks then you can convert your video files to WMV format and then use them in Movie Maker without any error.
Method 7 – Troubleshoot and Fix Windows Movie Maker
Troubleshooting Windows Movie Maker is not so difficult so one can easily do this task.
With the help of this troubleshooter, you can get rid of stuck codecs, storyboard/preview pane.
Let's start up Movie Maker and try a few tests.
Step 1: Open the run dialogue box by pressing the Windows Key + R
Step 2: In the run box, you need to type the appwiz.cpl in the textbox and press the Enter key.
Step 3: Now, you have to go to the programs and features window and right-click on the Windows Essentials then choose Uninstall/Change.
Step 4: At last, click on the Repair all Windows Live programs.
Professional Recommendation
Sometime due to any bug or other internal issues this problem generates, so to fix them on Window 10 you need professionally programmed PC scanner.
This app will scan your computer/laptop and fix all the internal issues automatically. So it is suggested to scan your PC with this tool at once and make Windows 10 error-free.
Summary
Article Name
Top 7 Fixes for No Audio in Movie Maker on Windows 10
Description
Apply the 7 Fixes one by one and get rid of No Audio issue in Movie Maker on Windows 10 without calling any professional or spending a single penny.
Author
Publisher Name
Publisher Logo