Windows 10 networking issues are very common, initially users gets unable to connect their Windows 10 system to the internet. This occurs in Windows system because of router, DNS server or system drivers and sometime registry configuration may also generate this issue. If you are unable to connect to the internet then there is a chance that the network registry entries are damaged or missing.
If you execute network troubleshooting with the help of Network Adapter troubleshooter then, you may receive this error:
"One or more network protocols are missing on this computer"
"Windows Sockets registry entries required for network connectivity are missing."
Is Your PC Running Slow & Needs Optimization?
Don't Miss The BEST TOOL To FIX PC Errors & Issues
Above given error clearly indicates that Windows Sockets (Winsock andWinsock2 subways) registry entries are not working correctly. Windows Sockets is responsible for managing incoming and outgoing network requests in Windows OS. So it is understandable, if system gets unable to process the network requests then network won't work. Don't worry and apply the below given fixes to solve this issue.
Methods to solve Windows Sockets Registry Entries Required for Network Connectivity Are Missing
Method 1 – Try to reset Winsock via Command Prompt
Resetting Windows Socketsentries using Command Prompt is very simple task. Open Command Prompt with the administrative privileges and enter the below given command and press Enter key:
netsh winsock reset
After the successfully completion of the command is, you'll be requested to restart the system in order to finish the reset. After restarting the machine, verify the status of issue. If the problem got fixed then ok otherwise you must have to reset Windows Sockets registry manually, because it may have exaggerated TCP/IP settings as well. To do this, go to the method 2.
Method 2 – Remove Winsock Registry and Reinstall TCP/IP
Note: Editing registry database manually is a risky task, a simple mistake while manipulating registry could affect entire Windows system. So it is recommended to edit registry database careful and create a System Restore point first (Click on the Start button -> Go to the search box and type Restore Point-> Click on the Create Restore point option from the list and wait until Windows creates a restore point.).
Step 1: Open run dialog box by pressing  + R keys and type regedit in the Run dialog box. Registry Editor will open.
Step 2: From the left pane of Registry Editor, go to the below given registry key:
HKEY_LOCAL_MACHINE\SYSTEM\CurrentControlSet\Services\WinSock2
Step 3: Here, right click on the WinSock2 key and choose Export. Save the registry entry backup to an appropriate location. After it again right click on the same registry key, and choose Delete.
Step 4: From the left pane of Registry Editor, go to the below given registry key:
WinSock(HKEY_LOCAL_MACHINE\SYSTEM\CurrentControlSet\Services\Winsock)
 And perform step 3 with this registry key as well.
After it close the Registry Editor.
Step 5: Click on the start menu and open the Control Panel, navigate to the Network and Internet > Network Connections. Right click on Local Area Connection or Ethernet connection and choose Properties.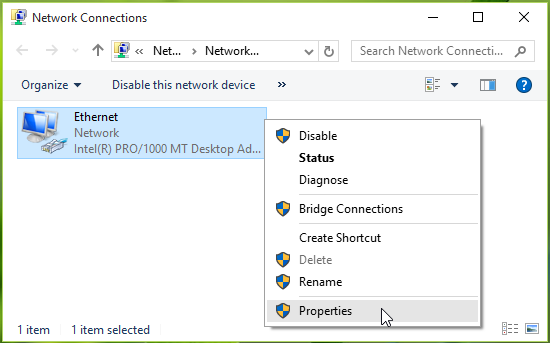 Step 6: At the Local Area Connection or Ethernet connection property, click on Install.
Step 7: After it, choose Protocol present under Select Network Feature Type and click Add.
Step 8: Then click on the Have Disk in Select Network Protocol window.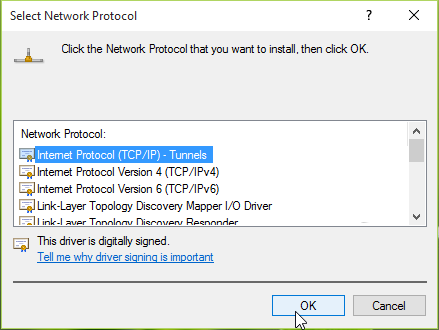 Step 9: In the "Install From Disk" window, enter C:\Windows\inf for Copy manufacturer's files from section. Click OK.
*Substitute C: with your system root drive.
Step 10: At last, at the Select Network Protocol window, choose Internet Protocol (TCP/IP) – Tunnels. Click OK. Close Network and Sharing Center, reboot your machine.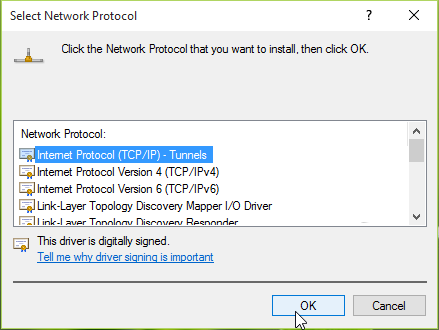 After the completion of above given steps you can recreate registry configuration, which eventually solves the problem.
How to Repair Windows 10 Damaged Registry Automatically?
Repairing a damaged windows 10's registry database you have to use a compatible Windows 10 registry repair tool. Through this you can fix all types of registry related issues on your Window 10 system without need of any professional skill. This tool is packed with lots of other features that may help your PC to perform better.
Follow 3 Simple Steps to Repair PC Instantly!
Step 1

– Download & Install

PC Repair Tool

.

Step 2

– Click "Scan" button to diagnose the PC.

Step 3

– Click "Fix Errors" to the fix the issues and you are done.
(Note: This powerful tool can increase your performance by 97%)