Summary: Many users are complaining about Windows 10 Upgrade error code 0x800F0923. If you are also one of them, then don't panic. In this article, I am going to give you the best possible and 100% working solutions to fix this Windows upgrade issue.
Many users have reported that they are getting an error code 0x800F0923 when trying to upgrade their older Windows version (Windows 7/8/8.1) to Windows 10.
This error also emerges while updating the Windows 10 computer and upgrading to the latest Windows 10 Update (Windows Creators Update).
When users try to update or upgrade the Windows 10 computer, they stopped by the 0x800F0923 error. This error prevents you to download the new update.
According to Microsoft's engineers, this error is mainly triggered due to incompatible or outdated device drivers. In addition, there are several other reasons for appearing this error.
Causes For Windows 10 Upgrade Error 0x800F0923
These are some of the major factors responsible for the 0x800F0923 error in Windows 10 computer:
Outdated device drivers
The computer doesn't fulfill minimum specs for upgrading to the Windows 10
Not sufficient hard disk space
Specific driver causing the error

0x800F0923

Third-party antivirus interfere with Windows Update process
So, these are the reasons for this upgrade issue in Windows 10. If you are also encountering this issue on your computer, then don't worry. Now, I am going to list down the solutions to fix the Windows 10 Upgrade error code 0x800F0923.
How Can You Fix Error 0x800F0923 On Windows 10 Computer?
Solution 1: Run Windows Update Troubleshooter To Fix Error 0x800F0923
Error code 0x800F0923 is related to the Windows update and upgrade issue. Therefore, you can fix it by running Windows update troubleshooter. It is one of the various Windows 10 inbuilt troubleshooters that will fix 0x800F0923 error on your computer automatically.
To run this troubleshooter, follow these steps:
Go to the Start button -> Settings icon
Click on the Update & Security
Select Troubleshoot in the left panel of the window
Now click on the Windows Update section
Click on the Run the troubleshooter button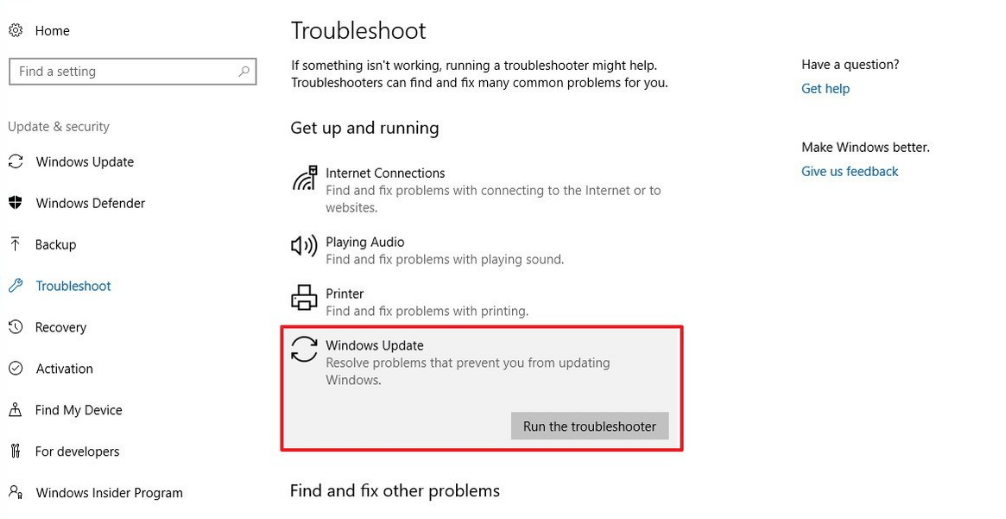 Follow the on-screen instructions to complete the process, and wait till the process gets completed.
Once the troubleshooting process is finished, restart your computer. This method should resolve the issue, and the Windows Upgrade/Update process will start again without any issue.
Solution 2: Check Your Device Compatibility
If you are encountering the 0x800F0923 error code while upgrading your computer to Windows 10 OS, then make sure your device is compatible and meet minimum system requirements.
You can click here to check the minimum system requirements for upgrading your PC/tablet/laptop to Windows 10.
Solution 3: Update Device Driver
The main culprit of the Windows 10 Upgrade error code 0x800F0923 is outdated device drivers. Outdated device drivers create several issues while updating or upgrading your computer and can also prevent you from installing new updates.
However, you can easily fix upgrade error code 0x800F0923 by updating all the drivers of your computer. You can update device drivers by visiting the manufacturer's website.
You can also update drivers manually. And to do so, follow these instructions:
Press Windows + R key together to open the Run dialog box

Type 

devmgmt.msc

 and click on the OK button to open the Device Manager window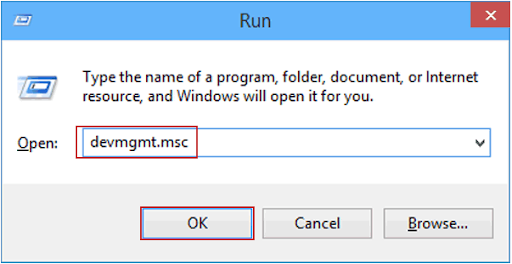 Click on the device category to expand the section

Right-click on the device name and select Update driver
Click on the 

Search automatically for updated driver software 

option, and it will update your driver automatically.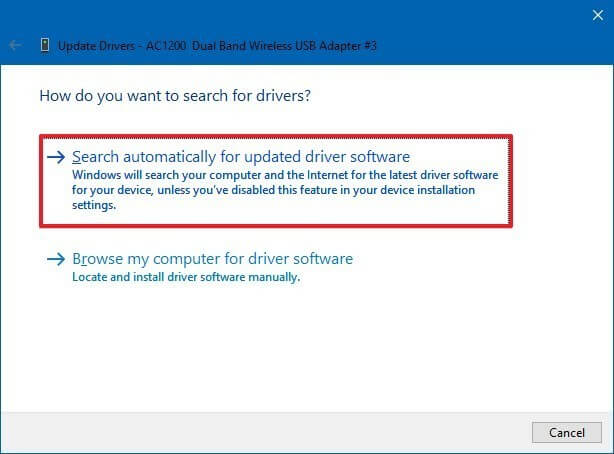 Similarly, update all other outdated device drivers on your computer.
Update Device Drivers Automatically:
Searching for each outdated drivers and then updating it on your own is a tough job. And that's why you need an automatic tool that can do this task on your behalf. 
I recommend you to use a safe and tested automatic tool – Driver Easy. This tool will not only automatically update all device drivers but will also fix drivers related issues on your computer.
Solution 4: Uninstall SPTD Driver to Troubleshoot Windows 10 Error
0x800F0923
In so many cases, a specific driver may cause the Windows 10 upgrade error 0x800F0923 and prevents users from downloading the latest updates.
Many affected users have precisely mentioned that the SPTD driver is causing this Windows 10 upgrade error. Hence, to fix 0x800F0923 error, you need to uninstall this driver from your computer.
To uninstall the SPTD driver, follow these steps:
Press Windows + X key together
Click on the Device Manger
Now search for the SPTD driver and right-click on it
Select Uninstall device option
Now a confirmation dialog box will appear, click on the Uninstall button
After removing the SPTD driver, check if the Windows 10 error 0x800F0923 is fixed or not. If not, then try out the next solution.
Solution 5: Disable Your Antivirus To Resolve Upgrade Error Code 0x800F0923
Sometimes third-party antivirus interferes with the Windows update process and leads to 0x800F0923 error. So, to fix the Windows 10 update error 0x800F0923, temporarily disable your antivirus.
If just disabling the antivirus didn't get your job done, then uninstall the antivirus from your computer. If this trick will work for you, then it means it's time to switch to another antivirus.
Solution 6: Clear the Hard Disk Space
You might get error code 0x800F0923 while updating or upgrading Windows 10 computer if the hard disk of your computer is out of space.
Therefore, check your hard disk space and free up disk space. You can use Disk Cleanup to clean your disk space. It is a Windows in-built tool that deletes temporary files and unwanted data from your computer. 
To run the Disk Cleanup tool, follow the below-given instructions:
Type Disk Cleanup on the Windows Search box
Click on the Disk Cleanup
Now select the Drive you want to clean
Click on the OK button
It will scan your disk to show you how much space you can free on that drive

Now select the types of file you want to delete

Click on the OK button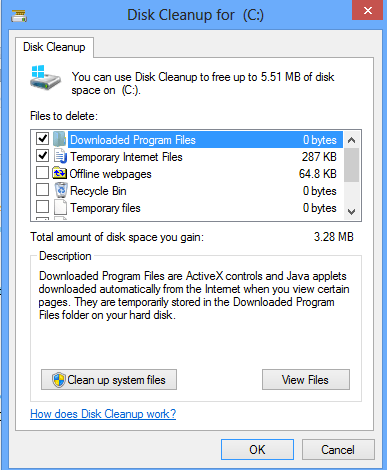 Solution 7: Download Windows 10 Update Manually
If you can't install the Windows 10 update due to an 0x800F0923 error code, then try to download updates manually. One can easily do this by following these steps:
Note down the KB number of the update you want to download.

After finding the KB number, go to 

Microsoft's Update Catalog 

website and then search for the same KB number

Now you will get a list of updates for various architectures. Make sure to download the update compatible with your system architecture.
After downloading the update, install it.
This method should resolve the error code 0x800F0923 on your Windows 10 computer.
Solution 8: Reset the Windows Update Components
To install new updates successfully, it is required that Windows Update and its services are working properly. If there is an issue with these services, then you may encounter the Windows 10 error code 0x800F0923. 
But, this issue can be resolved easily by resetting the Windows Update components. You can do this by following the given steps:
Go to the Windows Search bar and type cmd
Right-click on the Command Prompt and select Run as administrator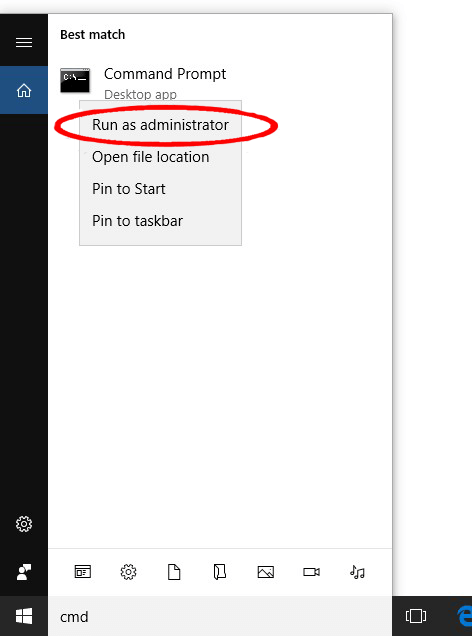 In the Command Prompt, type the following commands and press Enter key after each command:
net stop wuauserv

net stop cryptSvc

net stop bits

net stop msiserver

Ren C:\Windows\SoftwareDistribution SoftwareDistribution.old

Ren C:\Windows\System32\catroot2 Catroot2.old

net start wuauserv

net start cryptSvc

net start bits

net start msiserver
After executing these commands, restart your computer. Now check if you can upgrade or update Windows 10 computer without getting error code 0x800F0923.
Easy Solution To Fix Windows 10 Error Code 0x800F0923
Are you finding the above-mentioned solutions difficult to perform and want an easy way to fix 0x800F0923 Windows 10 error code? Then I have a solution for you, try the PC Repair Tool.
This tool will help you to fix all Windows Update related errors. Apart from it, this advanced repair tool also fixes DLL, BSOD, upgrade, registry, game errors, repairs corrupted files, secure your computer against viruses, and much more.
Above all, this tool has more to offer you. It also optimizes your PC to improve its performance and make it work like a new one.
Conclusion
Keep your OS updated is very crucial for your computer and its performance. However, many of you are facing a 0x800F0923 error code while updating your Win 10 computer or upgrading to Windows 10.
But, with the end of this article, you have enough solutions to fix this issue. All you need to do is, follow all the solutions I have mentioned in this article.
Above all, I have also mentioned an automatic solution to fix the Windows 10 upgrade error code 0x800F0923. In case, if you don't want to apply these manual solutions, then give a try to this automatic repair utility.
I hope you found this article helpful in fixing this Windows 10 Update/Upgrade issue. If you are going through some other Windows Update issue, then check out our Windows Update and Windows Upgrade category to resolve these issues.
If you have any queries or suggestions, then connect with us and do let us know on our Facebook and Twitter page.
Hardeep has always been a Windows lover ever since she got her hands on her first Windows XP PC. She has always been enthusiastic about technological stuff, especially Artificial Intelligence (AI) computing. Before joining PC Error Fix, she worked as a freelancer and worked on numerous technical projects.