Is your system showing Blue Screen of death window with an error message "CRITICAL_STRUCTURE_CORRUPTION"?
If yes then you are at the right place, here in this blog we will apply different solutions to overcome from this BSoD error message.
This BSoD error message can be caused because of the damaged, incompatible or outdated system drivers. After upgrading to Windows 10, there is a chance that you may face this error. It is because of the incompatibility issue between the old system drivers and the new version of Windows. The CRITICAL_STRUCTURE_CORRUPTION error also shows 0x00000109 Error Code which indicates that the issue is directly related to the driver issues.
Now, coming to the point let's start how to Fix the CRITICAL_STRUCTURE_CORRUPTION Error. Follow the below-given solution one by one in order to troubleshoot this BSoD error.
Is Your PC Running Slow & Needs Optimization?
Don't Miss The BEST TOOL To FIX PC Errors & Issues
Fix 1: Verify the System Memory
If you want to overcome from this BSoD error then first you need to verify System memory, it is the first hardware component to be verified for the BSOD error.
This is the first major hardware that generates Critical Structure Corruption Error after getting malfunctioned. You can verify this hardware component with the help of an inbuilt app.
First of all, click on the start button and search for the Windows Memory Diagnostic.
Select Windows Memory Diagnostic and open it with the Administrative privilege.
Now, choose the Restart now and check for problems option. This will restart you system and after rebooting your system will start the memory test. If this test gets fails then there is an issue in the RAM and you need to get a new RAM for your system.
Fix 2: Check the CPU (Processor)
One can easily verify the processors manufactured by Intel. With the help of Intel Processor Diagnostic Tool, you can diagnose the processor's features, functions, and performance in the real time.
First, you need to Download the Intel Processor Diagnostic Tool:  https://downloadcenter.intel.com/download/19792/Intel-Processor-Diagnostic-Tool
After downloading, you need to install it as an administrator.
Install Sample Production Bit Checker (SPBC).
After executing Intel tool, it will diagnose the CPU.
This process will take some time to complete.
Fix 3: Run a clean boot
By booting a system in a clean boot mode you can run your system with the minimum amount of required programs. Through this, you can easily find out the faulty programs.
First, open the run Window by pressing Windows + R, in the run window type msconfig and hit Enter key.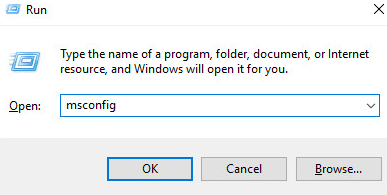 Click on the Services, checkmark the box Hide all Microsoft services and tap Disable all.
Now, navigate to the Startup tab and then tap Open Task Manager.
In the Startup tab of Task Manager, choose the items that you can see and click on the Disable.
Close the Task Manager.
Now, at the Startup tab, click on the OK and reboot your PC.
Also Read: 7 Working Solutions to Fix "No Internet Access" Error in Windows 10
Fix 4: Run DISM
Open the Command Prompt with Admin. Press Windows Key + X and then click on the Command Prompt (Admin)
After opening the command prompt, run the below-given commands and press ENTER after each command:
Dism /Online /Cleanup-Image /CheckHealth Dism /Online /Cleanup-Image /ScanHealth Dism /Online /Cleanup-Image /RestoreHealth
Allow the DISM command to run and wait until it gets finished.
If you are still unable to fix this issue after running the above command then try the following commands:
Dism /Image:C:\offline /Cleanup-Image /RestoreHealth /Source:c:\test\mount\windowsDism /Online /Cleanup-Image /RestoreHealth /Source:c:\test\mount\windows /LimitAccess
Note: It is recommended to replace the C:\RepairSource\Windows with the path of your repair source.
At last, reboot your PC to save all the modifications and check that the CRITICAL_STRUCTURE_CORRUPTION Error is fixed or not.
Fix 5: Update BIOS
Updating Windows system BIOS is little critical, as a small mistake can damage your entire system.
First of all, you need to identify your BIOS version, to do so open the Run window (press Windows Key + R). In the run box type msinfo32 and press ENTER key to open System Information.
After opening the System Information window, find BIOS Version/Date and note down the manufacturer and BIOS version.
Now, visit your manufacturer's website and then ENTER the PC serial number or click on the auto detect option.
From the list of drivers, click on BIOS and download the available update.
After downloading this file, just double-click on the Exe file to run it.
At last, after updating your system BIOS check for the CRITICAL_STRUCTURE_CORRUPTION Error.
Conclusion
It is hoped that after applying the above-given solutions one by one your PC will become normal. But if you are still unable to get rid of CRITICAL_STRUCTURE_CORRUPTION Error OR unable to follow the above given manual solution then you should go with the professional PC Error Repair Tool.
This is the software through which you can deal with all types of Windows 10 PC Errors, so it is suggested to scan your system with this tool. Download, install and run this tool on your PC/Laptop, it will automatically scan your PC for any types of errors and fix if found.
Summary
Article Name
[Solved] How to Fix CRITICAL_STRUCTURE_CORRUPTION Error on Windows 10?
Description
Want to fix CRITICAL_STRUCTURE_CORRUPTION Error on Windows 10, then apply the given solutions one by one Fix 1: Verify the System Memory, Fix 2: Check the CPU (Processor), Fix 3: Run a clean boot, Fix 4: Run DISM
Author
Publisher Name
Publisher Logo