There are several updates are released by the Microsoft to make Windows 10 OS more reliable and error free. In order to keep your Windows PC/Laptop safe and secure from bugs/errors and other security threats, you need to update your Windows system.
Sometimes users get unable to install Windows update due to several reasons, if your Windows update is not working then you should go with the Windows update troubleshoot. Via this troubleshooter one can easily install the latest updates without any error message.
Here in this blog, we will discuss about an irritating error message while updating Windows 10. The Windows 10 update error 0x8024a10a code is very annoying an difficult to deal. If you are suffering from this update error code then go through the below-given removal guide to fix Windows 10 update error 0x8024a10a.
According to several users, this error code can occur both on PCs and Windows-powered smartphones.
How to fix Windows 10 Update error 0x8024a10a?
1. Turn off Your Antivirus
This is the very first trick to solve Windows 10 update error code, according to some users by disabling third-party antivirus and antimalware software they can get rid of this error.
Actually, third-party security software can slow down or even stops the Windows update process. That's why it is recommended to temporarily disable the installed antivirus software. It is also suggested to disable your VPN while updating.
Also Read: Top 3 Tricks to Fix All Windows Update issues in Windows 10
2. Run the System File Checker
SFC or System File Checker is the built-in tool through which you can scan and repair Windows 10 system files. Sometime due to virus infections, Windows files may get corrupted or become invalid. If the system files get faulty or corrupt then it can prevent the Windows update process, that's why it is suggested to go with the SFC tool and fix the System Files:
Open the command prompt with admin privilege, to do this press Windows key + X and select Command Prompt (Admin).
Now, you need to type sfc/scannow
This command will take approximately 5 minutes to scan all the system files.
Once the process completed, reboot your PC and try to update your Computer.
3. Use DISM to fix corrupted update files
DISM or Deployment Image Servicing and Management tool allow users to scan and fix faulty Windows update files.
Before applying DISM, it is recommended to know that this tool can gather files from Windows Update or from system installation. Follow the below-given steps:
Open the command prompt, press Windows key + X and click on the Command Prompt (Admin).
Now, in the command Window, you need to type following command:exe /Online /Cleanup-image /Restorehealth
If DISM unable to fetch files online then try using your installation USB or DVD. Insert media and type following command:
DISM.exe /Online /Cleanup-Image /RestoreHealth /Source:C:\RepairSource\Windows /LimitAccess
Make sure to replace "C:\RepairSource\Windows" path of your DVD or USB.
The whole process will take approx 5 minutes.
4. Try starting PC in the Clean Boot mode
Follow the below-given steps one by one to boot PC in the Clean Boot mode,
Press Windows button and type msconfig, right click on "System Configuration" and choose "Run as administrator".
After it, go to the Services tab and check "Hide all Microsoft Services" box.
Click on the "Disable All" button and click Apply.
Navigate to the Startup tab and click on "Open Task Manager" link.
After it, you need to disable all startup programs one by one.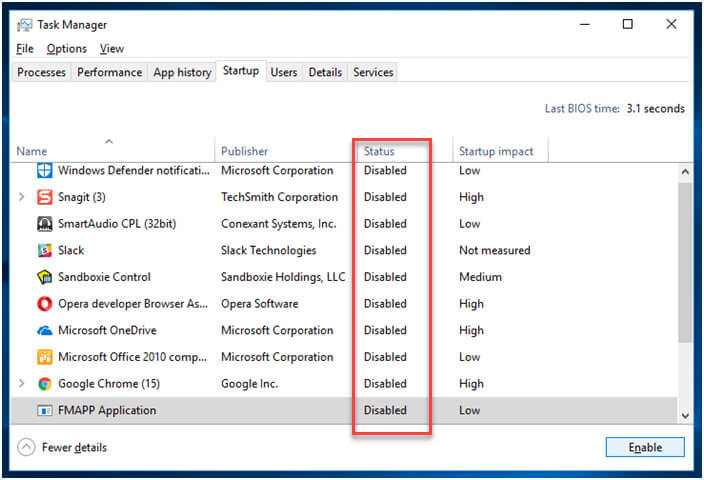 At last, reboot your PC and start the Windows update process again.
5. Run Windows Update Troubleshooter
In order to Update Troubleshooter, you need to click on the https://support.microsoft.com/en-ie/help/4027322/windows-update-troubleshooter
After opening this link download the troubleshooter.
And, after downloading, run this tool.
Simply, follow the on-screen instructions.
If you found any issues then it will be fixed automatically.
6. Reset Windows Update components
1: Open command prompt with the admin privilege.
2: After it, search and click on the registry key or subkey that you want to backup and select File -> Export.
3: While exporting registry file, select the location where you want to store the backup copy.
4: Then end BITS, Windows Update, Cryptographic, and MSI Installer services.
To do this, type the below-given commands and hit Enter key after each command:
net stop bits
net stop wuauserv
net stop appidsvc
net stop cryptsvc
5: After executing all the commands, paste the Del "%ALLUSERSPROFILE%\Application Data\Microsoft\Network\Downloader\qmgr*.dat" command to delete qmgr*.dat files.
6: Then copy and paste cd /d %windir%\system32 command and hit Enter.
7: Now you have to re-register BITS and Windows Update files. To do this type all the below-given commands and hit Enter key after every command:
regsvr32.exe atl.dll
regsvr32.exe urlmon.dll
regsvr32.exe mshtml.dll
regsvr32.exe shdocvw.dll
regsvr32.exe browseui.dll
regsvr32.exe jscript.dll
regsvr32.exe vbscript.dll
regsvr32.exe scrrun.dll
regsvr32.exe msxml.dll
regsvr32.exe msxml3.dll
regsvr32.exe msxml6.dll
regsvr32.exe actxprxy.dll
regsvr32.exe softpub.dll
regsvr32.exe wintrust.dll
regsvr32.exe dssenh.dll
regsvr32.exe rsaenh.dll
regsvr32.exe gpkcsp.dll
regsvr32.exe sccbase.dll
regsvr32.exe slbcsp.dll
regsvr32.exe cryptdlg.dll
regsvr32.exe oleaut32.dll
regsvr32.exe ole32.dll
regsvr32.exe shell32.dll
regsvr32.exe initpki.dll
regsvr32.exe wuapi.dll
regsvr32.exe wuaueng.dll
regsvr32.exe wuaueng1.dll
regsvr32.exe wucltui.dll
regsvr32.exe wups.dll
regsvr32.exe wups2.dll
regsvr32.exe wuweb.dll
regsvr32.exe qmgr.dll
regsvr32.exe qmgrprxy.dll
regsvr32.exe wucltux.dll
regsvr32.exe muweb.dll
regsvr32.exe wuwebv.dll
8: Now reset Winsock, type netsh winsock reset and netsh winhttp reset proxy commands. Hit Enter key after each of them.
9: After all, restart BITS, Windows Update, Cryptographic, MSI Installer services by entering the below-given commands. And press "Enter" key after each of them as usual.
net start bits
net start wuauserv
net start appidsvc
net start cryptsvc
Conclusion
All the above-discussed solutions are very effective and able to deal with Windows 10 update error 0x8024a10a.
If you really want to delete Windows 10 update error 0x8024a10a and download the available updates for your Windows system then go through the explained solutions one by one.
After fixing update error code, it is also recommended to scan your PC/Laptop with a professional PC Error Repair Tool. This software is specially designed to get rid of Windows PC errors which can't be fixed via manual solutions.
Simply, download, install and run this tool, and it will automatically scan your PC for any kind of error. So, if you want to make your PC/Laptop fast and error free then it is suggested to scan your PC with this tool once.
Summary
Article Name
[Solved] Unable to Get Rid of Windows 10 Update Error 0x8024a10a
Description
Want to Get Rid of Windows 10 Update Error 0x8024a10a, 1. Turn off Your Antivirus, 2. Run the System File Checker, 3. Use DISM to fix corrupted update files
Author
Publisher Name
Publisher Logo