If you are encountering boot error 0xc000000e in any of the following operating systems Windows 7, Windows 8 or Windows 8.1 on your PC, then how can it be fixed? In order to fix this problem you should have the installation disc for your Windows so that you can access the tools command line. In order to solve the boot error that is affecting is affecting the Windows version 7 and 8, in that case you have to follow the guide that is mentioned below.
Fix error messages:
You have to search for the "Missing or corrupt winload.exe"in this way you can troubleshoot this error. You would generally encounter this error when the Windows' BOOTMGR is trying to load the Boot or BCD registry (master boot record) you would generally encounter this error, which either has a bad configuration or has been corrupt. You would generally find that status code would appear and the boot loading process would stop.
Sample 0xc000000e error
If you are running Windows 7 or Windows 8 the error message may look a bit different, but irrespective of your OS version the "Status:" message is going to be "0xc000000e". Here is the screen shot of the Windows Boot Manager.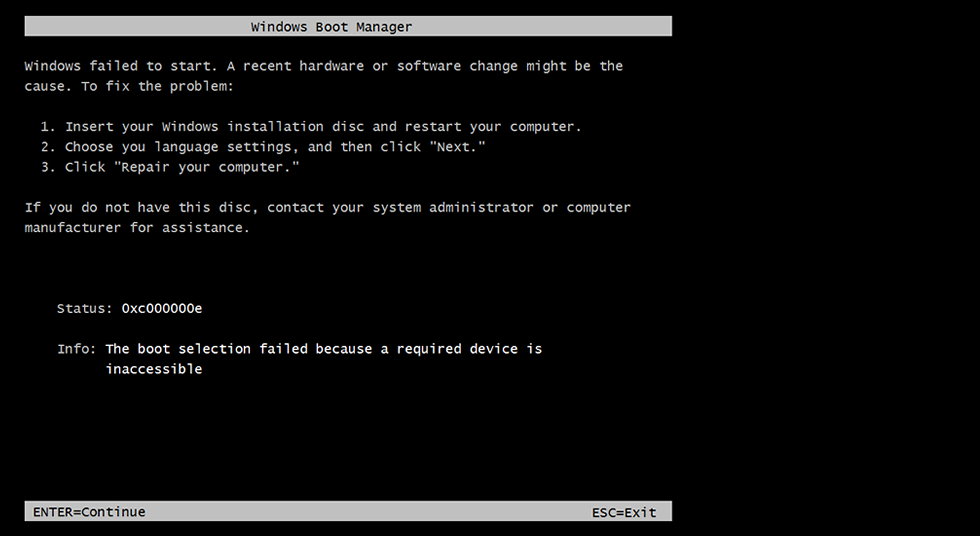 Is Your PC Running Slow & Needs Optimization?
Don't Miss The BEST TOOL To FIX PC Errors & Issues
How to fix 0xc000000e error 
In order to fix this error you should have Windows CD or DVD Setup along with you. Here are some methods how you can fix 0xc000000e error that is as follows:
Methods 1: Make sure nothing is plugged in 
Before making any Startup Repair or typing the command line, it is generally advised to restart your PC with minimum number of devices plugged in it. In this way you would make sure or cross checking that nothing has been recently plugged into your system. You should unplug the CDs, DVDs, USB discs, memory card reader etc.
Methods 2: Use Windows in-built Automatic Repair
In order to access the Automatic Repair from an install disc the steps are mentioned below:
Boot from Windows install disc
Click Next in the setup page after you have selected the keyboard input, language, and time
Choose Repair your computer and click Troubleshoot
Select the Advanced options
Click on Automatic Repair and choose your operating system.
Method 3: Rebuilding the BCD
As the boot error generally occurs due to a bad configured or corrupted master boot sector, then the only solution is rebuilding the BCD (master boot sector).
The steps for rebuilding the BCD are mentioned below:
Boot from your install disc
Select the Repair your computer after you have chosen the language, time etc.
Choose your Windows installation drive, that is generally C:\, and select Next
When the System Recovery Options box appears, then choose the Command Prompt
Write the following command "bootrec / rebuildbcd" and then press Enter.
If you are still facing the same problem then you can fix this with the help of PC Repair tool. Using this professional software you can fix any kind of system errors, cleans Windows registry, restore settings and most importantly acts as a guard to maintain, tune and run PC properly with maximum speed. You can use it automatically or manually. After using this tool, you should not be bothered of any error in your PC.
Follow 3 Simple Steps to Repair PC Instantly!
Step 1

– Download & Install

PC Repair Tool

.

Step 2

– Click "Scan" button to diagnose the PC.

Step 3

– Click "Fix Errors" to the fix the issues and you are done.
(Note: This powerful tool can increase your performance by 97%)