Windows 8.1 and 8 has introduced many changes to the operating system's platform and user's interface that has improved user experience on tablets, PCs and other portable devices. These versions of the operating system are very advanced as well as simple to use, no one needs any extra knowledge or skills to operate their PC/Laptop via this latest operating system.
But, this latest Windows operating system get fails sometime and display error messages while executing any command. Users may face several issues while dealing with installed apps, startup programs, and other windows components. If you are unable to use or optimize Windows 8.1 or 8 systems then you are at the right place, here in this blog we will discuss several common problems that you may face while operating your computer.
Accidentally Deleted Files
If you are suffering from accidental deletion scenario then don't worry as Windows 8.1 and 8 is packed with a File History features through which you can easily recover your deleted files.
Is Your PC Running Slow & Needs Optimization?
Don't Miss The BEST TOOL To FIX PC Errors & Issues
File history feature will automatically make copies of your files if you enable it.  So, it is suggested to enable this feature. One can easily restore their erased files or even can restore copy of a file. This feature is helpful when you have made changes to the file and want to get back the previous copy of the file.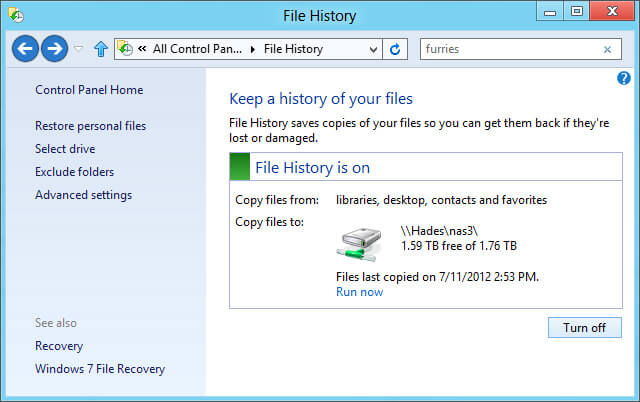 Too many Startup Programs
Startup programs and apps will slow down the startup process and may also affect the performance of your system. You can manage the startup programs with the help of task manager.
But it is recommended to avoid removing necessary startup programs if there are too many programs that start automatically after starting the computer and these can slow down the startup process then first you have to find out the unnecessary programs.
Simply, right click on the taskbar and open the Task Manager and Click on More details link and then use the option on the Startup tab that helps you to disable the startup programs. Disable the unnecessary program or apps from the startup.
 Along with the startup problem, this will also improve the performance of your system.
Messed up settings
If you have messed up the settings then you can easily restore the default option in and want to get back the previous settings then you've to-
Delete the library- Right click on the library header in the File Explorer application and restore the default libraries.
Messed up the folder of the display settings- Click on the View tab in the File Explorer and click on the option icons and select the Change folder and search options.
Also Read: Steps to Solve BIOS or CMOS 'Checksum' Error in Windows 10, Windows 8.1, Windows 8, Windows 7
Problems with Internet Explorer
You may experience problems while using the desktop version of Internet Explorer when you have installed too many browser add-ons such as the toolbar.
How to fix Internet Explorer Issue?
Go to the Internet Explorer 11
Click on the "Tools" option present at the upper side of the window and then again click on the "Internet Options"
Go to the "Advanced" tab present in the upper side of the window click on the "Reset" Button- this will open up confirmation window again click on the "Reset" and reset the explorer.
This process will take few seconds to reset your Internet Explorer to the default settings.
Now, exit from the Internet Explorer 11 and reboot your PC.
That's all, the above-given trick will fix all the issues related to the Internet Explorer.
Suffering from Resource sucking Programs and Frozen
Freezing of computer is not an error but occasional programs may get freez. It becomes worse when it is running in the background and sucking the CPU and other memory resources and does nothing than this. To eliminate this process you can end the program by using the Task Manager.
In order to overcome this issue, apply the below-given tricks:
Enable Hyper-V
Update your video card
Verify your system files to make sure none are corrupt
Sign out and in
How to Deal with system files corruption issue
Windows contain System File Checker (SFC) command that you can run manually. If you run this program the Windows will scan the computer system files ensuring that they're all present and in working order. If the file gets deleted or corrupted System File Checker notices it and automatically replaces it. This method can be used without the help of Refresh and System Restore Features.
Open the command prompt with admin privilege.
Now, type sfc /scannow and press Enter to run this command.
How to Deal with other General PC issues?
Refresh the Windows 8 PC/Computer
Windows allows you to "Refresh your PC" which is an easy way to reinstall the windows. This makes the Windows to automatically refresh itself by restoring itself to its default state. This process is the quick way to get the Windows back to its fresh state without losing any files.
In order to refresh your Windows 8 and 8.1 system follow the below-given steps:
Open the Settings and navigate to the -> Update and Recovery -> Recovery.
Here you will find: "Refresh your PC without affecting your files", click on the Get started button.
After it follows the onscreen instructions to complete the refresh process.
Restore System
System Restore feature helps you to restore the system without performing a Refresh or reinstallation of Windows. System restore does not erase the desktop programs that you have installed it is the faster way to restore the windows. You just have to automatically create "restore points" and backup all your important system files.
Restore your Windows 8 PC to an earlier point in time
Step 1: Go to the search option and search for the control panel, and tap or click Control Panel.
Step 2: Enter the Recovery in the Control Panel search box, and then tap or click Recovery.
Step 3: Tap or click on the Open System Restore, and after it follows the on-screen instructions to restore your PC or laptop to an earlier point in time.
Conclusion
That's all about the common Windows 8.1/8 system issues and their solutions. If you are still suffering from any other kind of PC issues which are not listed on this blog then don't worry and apply the automatic solution to get rid of them.
Download, install and run PC ERROR REPAIR tool, this software will scan your entire computer or laptop and then fix all the scanned issues automatically.
This tool will also help you to boost your PC/Laptop performance without the need to apply anything manually.
Summary
Article Name
[Solved] Common User Errors and How to fix them in Windows 8.1 and 8
Description
Want to make your Windows 8 PC or laptop error free then follow the given tricks to deal with your PC errors. You can easily get rid of Accidentally Deleted Files, Startup Programs, Messed up settings, Problems with Internet Explorer and more...
Author
Publisher Name
Publisher Logo